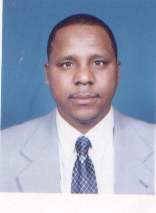 PhD, MSc, BSc, PGD Computation (London), Grad Dip Ed (Sec, Tert & Adult with Certificate IV Assessment & Workplace Training), Microsoft Office Specialist Master Instructor, Microsoft Office Specialist (MOS), Internet and Computing Core Certification (IC3), International Computer Driving License (ICDL), Instructor Certification Program (ICP) – Train the Trainer (ExecuTrain), Member, Western Australia College of Teaching (WACOT), Member, Australian Computer Society (MACS)
Dr Ahmed Abubakar is a highly experienced project manager and instructional designer in information technology. He has successfully managed large, medium and small education and training projects in both the private and public sectors. He holds formal qualifications and has extensive experience in the analysis, design, development, delivery and validation of training.
Ahmed has worked as a lecturer, trainer and assessor (business and information technology) in universities, vocational education training and high school, both in Australia and overseas.
He has conducted needs analysis and training needs assessment, course design and development (for both face to face and distance delivery) as well as the validation/evaluation of courses. He has worked with many different groups to identify competencies related to specific employment areas including staff from the education and information technology industries. Dr Abubakar has developed training packages in a wide range of information technology areas.
In addition to his experience in the development of higher education and vocational training, Ahmed has worked with several organisations to assist them to become a registered training organisation and to have courses accredited with state accrediting agencies and has also developed documentation for a number of different organisations including policies, procedures and systems manuals and employee information guides etc.